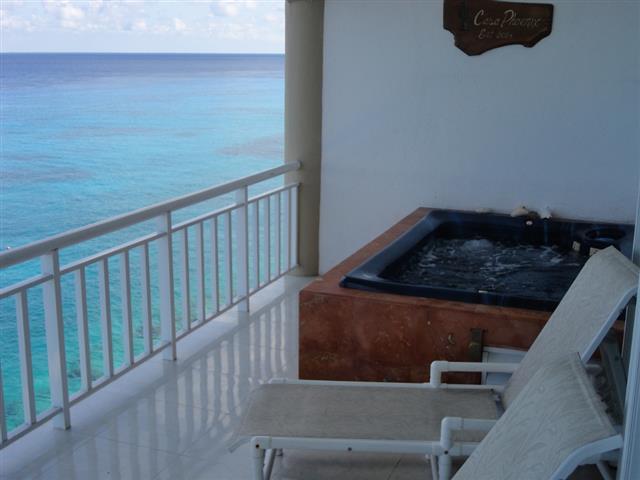 Beachfront. The ocean at your back door, town at your front!
All reviews on the major vacation websites for Casa Phoenix Cozumel are 5 stars — more than any other Cozumel vacation rentals.
Directly on the ocean (no street to cross).  Swim, snorkel or dive anytime you like.
No rental car or taxis needed (save $$$!).
4 large master suites each with private attached bath.
Dive and fishing boat pickup at our beachfront dock.
Complete kitchen, wi-fi, Netflix & Free Phone Calls To & From The U.S. & Canada.
Infinite edge 3-level freshwater heated pool.
Beach with palapas, tables, chairs.
Jaw-dropping ocean vistas from your private 50-foot balcony. Watch the cruise ships and dive boats go by while lounging in your own private hot tub spa!
Casa Phoenix Cozumel is a one-of-a-kind luxury condo for rent in the very best location in El Cantil Cozumel Mexico and directly on the ocean.
Restaurants, shops and nightlife are in the neighborhood. Yet close the door and you're transported to paradise!
If you want both 5-star luxury and convenience, there is no second choice on Cozumel Island, Mexico.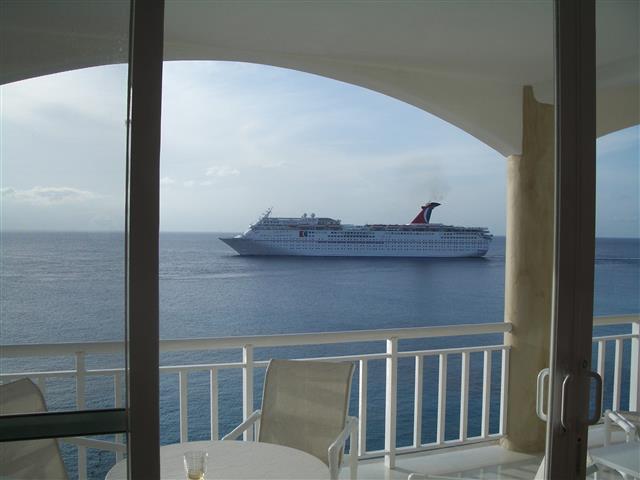 Photo by John Maxwell
"Definitely the best accommodations in the Caribbean."
-- The Grant Harris Family, Garden City, Kansas
"The location could not be better. It's in the middle of everything!"
-- Roger Schirmbeck, Baytown, Texas
"The view is to die for! Drinking my morning cup of coffee had new meaning."
-- Stacy Plymale, Puyallup, Washington
"The best and most relaxing vacation we've ever had!"
-- The George Davis Family, Auburn, Indiana
"This has to be the absolute best place to stay in Cozumel."
-- The Taylor Family, Chattanooga, TN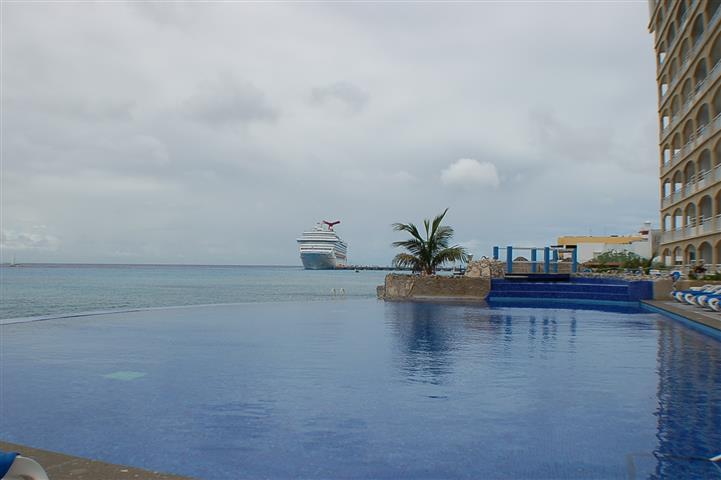 The infinite-edge swimming pool overlooking the Caribbean
Compare Casa Phoenix Cozumel to any other vacation rental property. All the delights of the ocean are at your back door, all the amenities of town at your front. No wonder Casa Phoenix is the #1 rated Cozumel vacation rental condo on all the major vacation rentals websites! E-mail us or call 800-542-2270 with questions or to make your reservation.
Discounts for last-minute vacancies and smaller groups.
LUXURIOUS living in Cozumel.
BEACHFRONT, easy access for swimming, snorkeling or diving anytime!
NO RENTAL CAR OR TAXI NEEDED (Save $$$!) – restaurants, shopping, night life are steps away.
THE ABSOLUTE BEST LOCATION IN COZUMEL. Beachfront. All the delights of the ocean at your back door, all the amenities of town at your front.
HUGE MULTI-LEVEL FRESHWATER POOL WITH SPACIOUS DECK AND SAND BEACH WITH PALAPAS, CHAISES, TABLES AND DOCK. We front on 15′ deep water (great for ocean swimming, snorkeling or diving!). The beach is built on a small seawall, and you enter the water via a small sandy grotto, the swim ladders, or just jump in. Natural beaches are a short taxi ride away (fee for day pass).
Watch the cruise ships go by perched on your own 500 square foot PRIVATE OCEANFRONT TERRACE — complete with HOT TUB SPA
DIVE AND FISHING BOAT PICKUP AT OUR PRIVATE DOCK
FREE WI-FI
FREE NETFLIX
FREE PHONE CALLS TO THE U.S. AND CANADA. You never have to be out of touch (unless you want to be!).
Two Super Wal-Mart-type stores (groceries, liquor, wines, deli, bakery, carry-out, pharmacy, etc.) — across the street.
BREATHTAKING OCEAN VISTAS
Four master suites, each with its own PRIVATE EN SUITE BATH. Three suites have king beds, one has two queens. Two directly face the ocean with sliding glass doors to the covered terrace, the others have small balconies and sliding glass doors with town vistas and partial ocean views. You'll make memories from these views!
Washer & dryer in unit (no charge).
Purified r.o. (reverse osmosis) water.
FULLY-EQUIPPED KITCHEN. Everything you need and more.
MAID SERVICE INCLUDED
Micro-filtered, UV-treated, softened water throughout the condo. This is in addition to the reverse osmosis system in the kitchen.
Central air conditioning.
50″ FLAT SCREEN TV w/ DISH NETWORK, NETFLIX & DVDs
Children welcome over age 5 (due to the balconies).
Digital safe in each bedroom.
Twin Otis elevators. One just outside your door takes you to the lobby or beach/garage level.
Doorman/security guards on duty 24/7.
Parking in garage and on-street.
Freshwater rinse tank for swim & dive gear.
Large walk-in locked storage cage assigned just to Casa Phoenix Cozumel for your use.
Compare us to any other Cozumel vacation rental property. There is no other place on Cozumel Island that gives you this level of luxury right on the ocean and no need for a rental car or taxis.